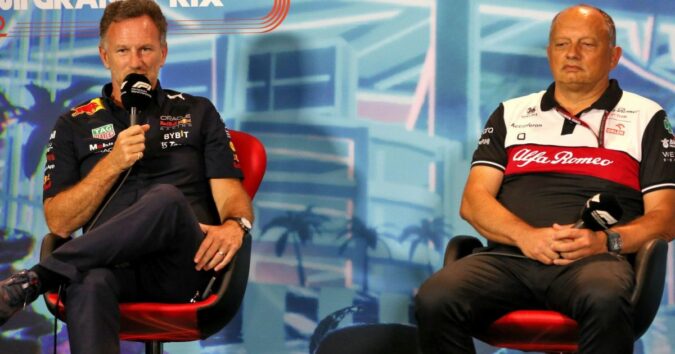 Christian Horner has been speaking for the first time about the appointment of Fred Vasseur at Red Bull's rival Ferrari.
Vasseur made the swap from Sauber to Ferrari at the beginning of the year with the Frenchman charged with bringing the Italian outfit back to the top of the Championship.
To do that, Ferrari must topple Horner's Red Bull team meaning the two team principals could have more clashes in 2023 than in previous years.
Horner, never one to miss an opportunity for a subtle dig, has been speaking about Vasseur's move to Ferrari and pondered whether he would complain about the same things he did when he was at Sauber.
"It has been interesting to watch the movement," Horner told Motorsport Magazine. "I have sympathy for Mattia, because ultimately he'd done a good job.
"Last year, that was a big step forward from where they had been, so that must be tough for him after such long service that he had given to Ferrari.
PlanetF1 recommends
Exclusive: F1 drivers concerned about burnout over extended calendar
Exclusive: General Motors confirm FIA entry bid, believe their team 'will heighten enthusiasm for F1 racing, globally'
Exclusive: Sebastian Vettel given extra time to decide on future as GPDA director
"Fred, it'll be interesting to see if he's still arguing about the same points that he was for Sauber in upcoming meetings! But again, he's a very capable guy. So yeah, it'll be very interesting. I'm sure they're all very capable people. So we'll get to see what the dynamics are at the next Formula 1 Commission meeting."
Vasseur is not the only team principal on the move with Mercedes' former chief strategist James Vowles stepping up to the top job at Williams and Horner has been giving his thoughts on that move, too.
The Red Bull boss commented on speculation that Vowles was being lined up by the Silver Arrows as a future Toto Wolff replacement but Horner said Williams will have done what is right for them.
"I don't know James particularly well, but he's obviously a very capable guy," Horner said. "Williams will have done their due diligence and research and I think it's great that they're giving him the chance to make that step up. So I think that can only be good news for Williams.
"And is there anything attached to that? Williams would have obviously done what's right for them and right for their business. But only they will know what has been agreed for that early release to have happened."
Red Bull became the first team to showcase their car ahead of the season with an unveiling in New York City although the RB19 is expected to look a lot different to the one seen on stage in the Big Apple.