At President Cyril Ramaphosa's seventh State of the Nation Address, there were shouts, points of order, chaos and underwhelming sartorial monotony.
Even the President's tie was slightly askew, the whole package trending towards dishevelment. The tie was red once again, a tone darker than the 2022 red-candy shade, but it was more the bloodshot eye of our nation, the symbol of our common fatigue, than the red of life and exuberance. Sigh.
The DA people wore corporate black to reflect "the sombre mood of the country". Walking in line in front of Cape Town City Hall, it seemed that, for a moment, they might break into a Wednesday Addams dance, heads thrown backwards, hands moving up and sideways.
The military band that was awaiting the arrival of President Cyril Ramaphosa for proceedings to start possessed more zest in their vests than many attendees, the EFF included.
There were some touches of colour: Minister of Social Development Lindiwe Zulu was dressed in a white suit topped with an assorted summer cape-coat, embroidered with colourful geometrical patterns — an ode, one presumes, to our rainbow nation.
ANC MP Supra Mahumapelo added a brooch on his low bowtie and clashed leopard print with polka dots. ANC MP Mandla Mandela wore head-to-toe blue with black brogues.
Miss South Africa 1990 and TV personality Basetsana Kumalo donned a long wrap-around aquamarine dress by Johannesburg-based brand Rubicon to go with her Louboutin shoes. She wasn't the only one to have chosen the colour of "new beginnings and growth" (or jealousy and envy, depending on your mood).
There was plenty of green on Thursday night: emerald green for the deputy minister of sports, arts and culture, Nocawe Noncedo Mafu; a dress in forest-green shweshwe for Speaker of the House Nosiviwe Mapisa-Nqakula; more light sea-green, fern-green for the guard of honour and military khaki-green for the Presidential Protection Unit who appeared on stage as the EFF attempted to disrupt the President's speech.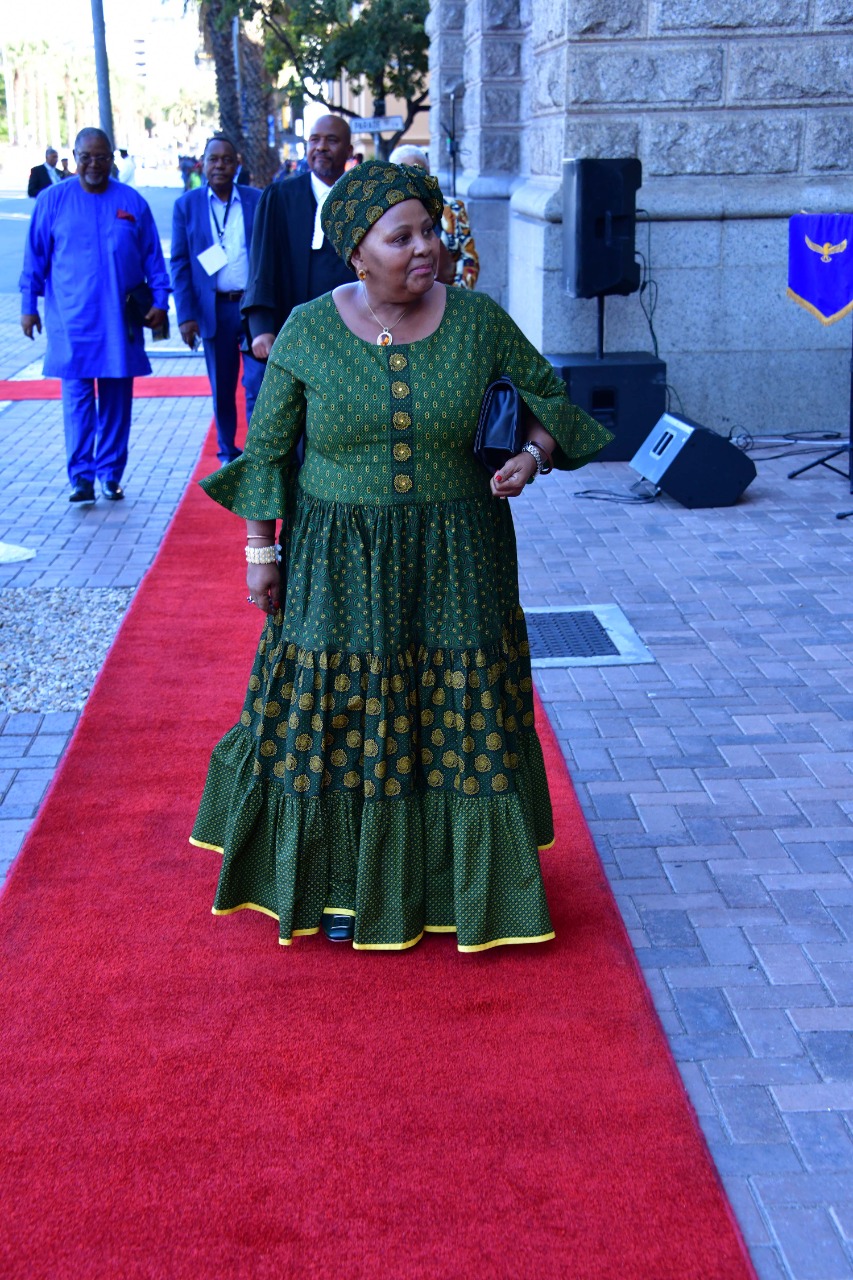 Was green the colour of the night? Possibly.
Green is a secondary colour, birthed by mixing blue (associated with the colour of the sky, and in antiquity, "the male principle, the sky deities, and the gods of heaven", but also confidence, trust and inspiration) and yellow (usually associated with energy, the power of the sun, warmth, hope — and caution). Dilute both and you get green — our hope and confidence tempered into a shade of discipline and order.
Mapisa-Nqakula went green on the EFF, ordering the parliamentary protection officers to kick them out of the House.
Ramaphosa declared we're back in an already familiar State of Disaster, asking us to "work together and act boldly and decisively" to "resolve our challenge".
DA leader John Steenhuisen tried to convince journalists that the grass was greener on his side of the political aisle.
And then came Minister of Tourism Lindiwe Sisulu, in a red, high-waisted, pleated, long-sleeved dress, with black and white trimming. In a sea of green and black, she stood out, brushing off the Tottenham deal in front of cameras like unwanted speckles of annoying dust on her skirt, which twirled slightly as she walked, adding a spring in her step, a dash of her signature frivolity in an otherwise toned-down State of the Nation. 
It seemed to project lightness of being, a nonchalant attitude, the tiny buttons going down from her collar dancing as she spoke about, as Victoria O' Regan explained, "the Tourism Portfolio Committee chairperson Tandi Mahambehlala's behaviour during the marathon committee meeting that was held on Tuesday" and where it was decided that the R1-billion Tottenham Hotspur deal should be cancelled.
"She really is played up, completely out of control with the decorum of the House, and completely outside of her powers," said Sisulu.
Was it this signature green of the night again, this time with Sisulu's envy?
As Ramaphosa closed his speech, his tie still a little askew, the red overalls were outside shouting "dictatorship" at the journalists, and the attendees left the City Hall in a darkness induced by load shedding. The colour of the night dominated the post-Sona reality. DM/ML