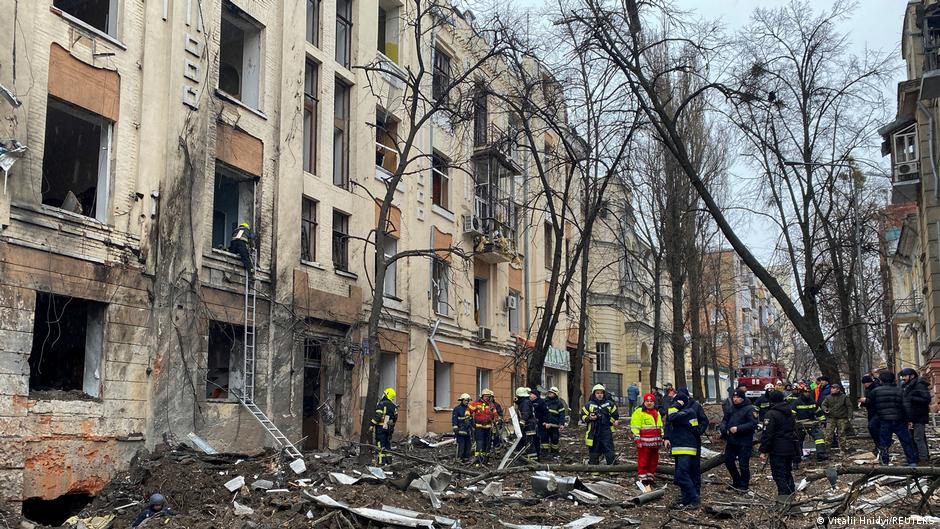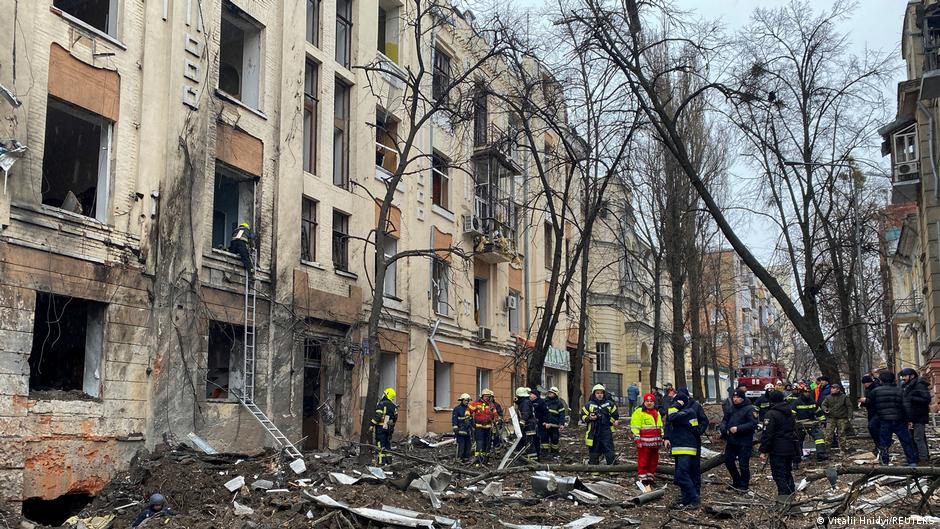 Ukraine's top general, Valeriy Zaluzhnyi, said two Russian Kaliber missiles had crossed into Romanian and Moldovan airspace before entering Ukraine.
Valeriy Zaluzhnyi, commander-in-chief of Ukraine's armed forces, said the missiles had been launched from the Black Sea and had entered Moldovan airspace. They then flew into Romanian airspace, before entering Ukraine.
The Ukrainska Pravda online newspaper quoted a Ukrainian air force spokesperson saying separately that Ukraine had the ability to shoot down the missiles. However, it did not do so for fear of endangering civilians in foreign countries.
Officials had warned of possible missile strikes from Russian forces on Friday, urging citizens to take cover as air raid sirens sounded across the country.
Several cities reported already being targeted.
"There is a big threat of the missile attack. I want to stress again — do not ignore the air alert sirens," said the head of Kyiv city military administration, Serhiy Popko.
The alarm was raised after warnings that Russia had launched Tu-95 strategic bombers. There were reports that other planes had been launched from Belarus.
"Enemy aviation is in the air and ships which can carry Kaliber missiles are in the sea. The enemy launched the missiles. The air alert will be long," said Maksym Marchenko, governor of the southern region of Odesa. "Please do not ignore the air alert sirens, and go to the shelters."
The Kyiv Independent said that several explosions have been reported in the Dnipropetrovsk region and that seven more missiles have been fired at the Kryvyi Rih area, according to Oleksandr Vilkul, head of that city's military administration.
This is part of "Russia's latest massive missile attack in Ukraine, using cruise missiles launched both from the air and from the sea," according to the governor of the Mykolaiv region, Viitaliy Kim, who said that some 20 missiles were launched in the first wave of attacks.
The warnings came after Moscow's military struck critical infrastructure in Ukraine's second-largest city, Kharkiv, and launched multiple strikes on energy infrastructure in Zaporizhzhia in the early hours of Friday.
Here are some of the other notable developments concerning the war in Ukraine on Friday, February 10.
Russia making gains, and some losses
The UK Ministry of Defense says Russian forces appear to have made tactical gains this week in two key sectors — but abandoned a large number of armored vehicles in one incident.
The ministry's daily report said Wagner Group forces on the northern outskirts of the Donbas city of Bakhmut have pushed two to three kilometers (about a mile-and-a-half) further west, controlling countryside near the main route to the city. It added that Russian forces are increasingly dominating the northern approaches to Bakhmut.
To the south, Russian units have made advances around the western edge of the town of Vuhledar, where they re-launched offensive operations in late January 2023.
However, London says Russian units have likely suffered particularly heavy casualties around Vuhledar where inexperienced units have been committed.
It added that Russian troops likely fled and abandoned at least 30 mostly intact armored vehicles in a single incident after a failed assault.
Polish president met Zelenskyy
Ukrainian President Volodymyr Zelenskyy met his counterpart in Poland, Andrzej Duda, the office of the Polish president said on Friday on Twitter.
The meeting, in the southwestern logistic hub of Rzeszow, took place at the end of Zelenskyy's whirlwind tour of Europe, taking in London, Paris and Brussels.
"The President of Ukraine reported on his recent diplomatic activity in Brussels and other European capitals; the talks also focused on security in the region," it said.
The office said the pair discussed the current situation at the front and the need for further joint actions for military support.
On his tour, Zelenskyy continued to push for more Western military aid came as evidence mounted of an anticipated offensive by Russia as the war enters a second year.
Zaporizhzhia, Kharkiv report infrastructure strikes
At least 17 missiles hit the city of Zaporizhzhia within a single hour on Friday, the city's acting mayor Anatolii Kurtiev said.
Kurtiev said the missiles targeted energy infrastructure.
The Zaporizhzhia region is home to Europe's largest nuclear power plant, which was shut down due to threats posed by Russian attacks.
Russian strikes also knocked out power supplies in parts of Kharkiv, Ukraine's
second city.
Authorities were still trying to establish information on the scale of the destruction and any casualties. Mayor Ihor Terekhov said there may be disruptions to heating and the electricity and water supply.
Macron mulls rescinding Putin's medal
French President Emmanuel Macron is considering stripping Vladimir Putin of his French Legion of Honor medal after bestowing the same honor on Volodymyr Zelenskyy on Thursday, which symbolized France's "immense" recognition of Ukraine's valor.
Late French President Jacques Chirac awarded Putin the medal in 2006. Some French activists and lawmakers have called on Macron to revoke the honor because of Russia's invasion of Ukraine.
On Friday, Macron said such a decision "has serious meaning, and it should be taken at the right moment."
He noted that he has previously rescinded the honor from certain individuals, such as in the wake of sexual misconduct allegations against disgraced Hollywood producer Harvey Weinstein.
Zelenskyy to speak on Olympics ban
Volodymyr Zelenskyy is set to address a meeting of some 30 sports ministers on Friday to discuss the participation of Russian and Belarusian athletes at the 2024 Olympic Games in Paris.
The International Olympic Committee is working on a plan to allow athletes who haven't actively supported the war to participate under a neutral flag, but Zelenskyy previously said any such banner would still be "stained with blood."
Zelenskyy's push for a total ban has met some support from the likes of Poland and the United Kingdom, among others.
"We must make clear there are consequences to this illegal invasion," said British Culture Secretary Lucy Frazer, who is chairing the meeting.
"We cannot allow Russian athletes to line up alongside Team GB (the British Olympic team) and everyone else on the world stage."
The Mayor of Paris, Anne Hidalgo, has also called for Russian and Belarusian athletes to be barred from the 2024 Olympics in her city if the war is still going on by then.
More on the war in Ukraine on dw.com
After Western powers agreed to send main battle tanks to Ukraine as part of a "tank coalition," Ukraine is now asking for fighter jets. DW looks at Zelenskyy's lastest requests during his recent trip to three European capitals.
Several European nations have supported a Ukrainian proposal to ban Russian and Belarusian athletes from next year's Olympic Games in Paris. DW looks at how Russia's invasion of Ukraine looms over the global sporting event.
zc/ar,kb (AP, Reuters, AFP, dpa)